Microsoft Exchange Server

IJ-Net have several years experience in configuring, maintaining, and migrating with Microsoft Exchange, in particular
Exchange 2003. We also have the skills to migrate from your Internet Provider or Novell servers to Microsoft Exchange.
From this basis IJ-Net can then setup the collection of email, customise company or user email addresses, setup
mailing distribution lists, provide Outlook Web Access from a web browser, access your email from your mobile
telephone, PDA, or your laptop on the road.
IJ-Net can provide extra services such as exchange disaster recovery, email backup and restoration.

The Microsoft Exchange, messaging and collaboration server is software that runs on servers that enables you to send
and receive electronic mail and other forms of interactive communication through computer networks. Microsoft Exchange
is designed to interoperate with a software client application such as Microsoft Outlook. Microsoft Exchange Server
also interoperates with Outlook Express and other e-mail client applications.
E-mail messages are sent and received through what is commonly referred to as a client device such as a personal
computer, workstation, or a mobile device including mobile phones or Pocket PCs. The client typically connects to
a network of centralized computer systems comprised of servers or mainframe computers where the e-mail mailboxes
are stored.

Client access functionality.
Exchange Server offers you integrated collaborative messaging features such as scheduling, contact, and task management
capabilities. Exchange Server 2003 runs on Microsoft Windows Server 2003 and Microsoft Windows 2000 Server
operating systems.

Mobile access functionality.
Exchange Server 2003 supports mobile devices such as Pocket PC and Smartphones and enables you to synchronize
your Inbox, Calendar, and Contacts and Tasks lists so you can remotely check your appointments and other important
information. Mobile device browsers are also supported through Exchange Outlook Mobile Access, which enables HTML,
compressed HTML (CHTML), and Wireless Application Protocol (WAP) browser–based devices to access Exchange
Server.

The following diagram illustrates the types of clients that Exchange Server supports:

Types of clients supported by Exchange Server 2003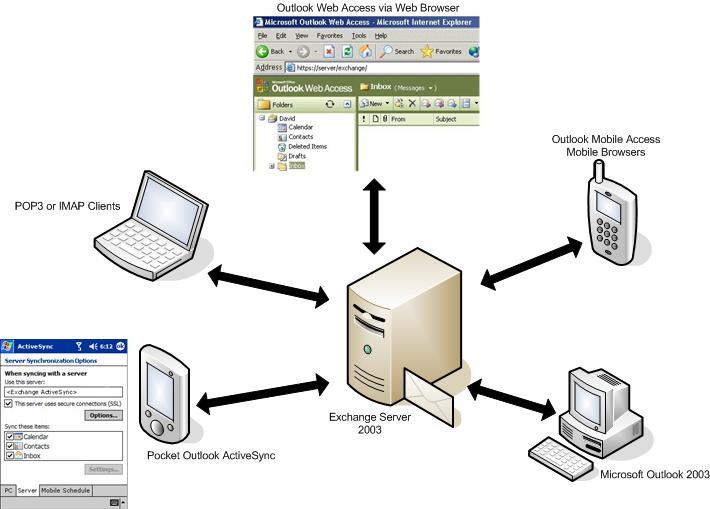 The Exchange Server collaboration features help you to share information quickly and efficiently. Typical
collaborative scenarios include maintaining shared address lists that everyone can view and edit, scheduling
meetings that include people and conference rooms by viewing associated free or busy schedules, the ability
to grant other people, such as administrators, access to your mailbox on your behalf. You can also manage
"rules" for processing messages on Exchange Server, giving you the flexibility to create auto-responses and
automatic filing of incoming messages. For maximum collaboration productivity, IJ-Net recommend the
combination of Exchange Server 2003 and Outlook 2003.
IJ-Net presently maintain companies ranging from SOHO two user companies to larger 50 user plus companies
who have a mixture of internal and remote staff. In all situations we provide a complete telephone & remote
support service, and assist users in all IT related problems, queries. As part of out support, we use
remote control tools in connecting to users computers or laptops.

All Rights Reserved © 2004